DFX quarterly reporting of Q2/22
Happy Birthday DFX & Review Q2 2022
July 1st, 2022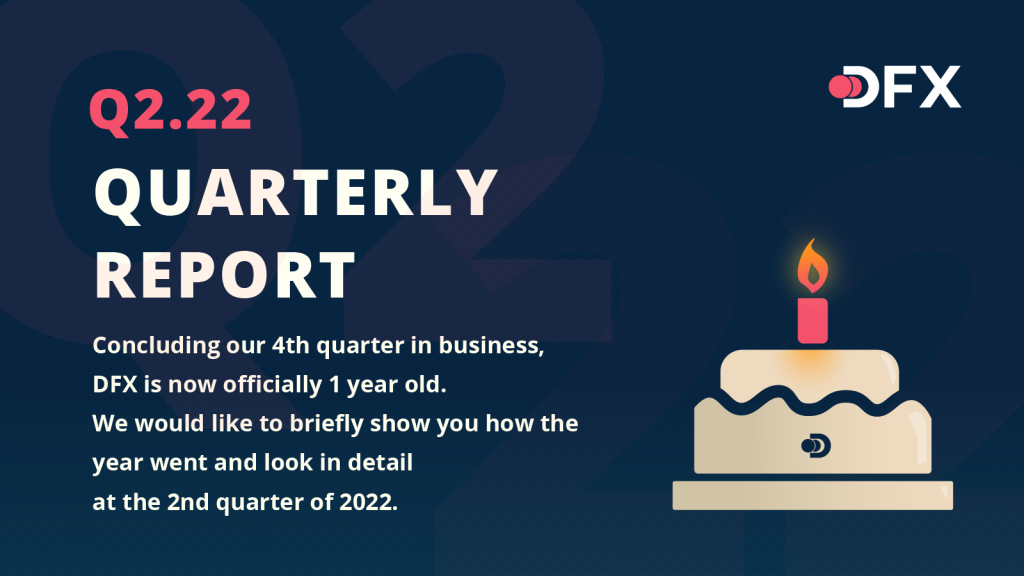 Q2 2022 is a very special quarter for DFX - we are now officially one year old.
In June 2021, the wild journey began with the launch of DFX AG in Switzerland. Since then, we have been providing thousands of users with a convenient and smooth FIAT on- and off-ramp to invest in DeFiChain assets and withdraw assets to their bank accounts in the easiest way possible. In particular, the trust in the DFX brand has been growing continuously, which inspires us every day to continuously improve our service.
It is remarkable that we were able to increase the trading volume again this quarter, despite the current difficult market situation. We have processed 20% more in trading volume compared to our very successful first quarter of 2022 with a trading volume of €22.3 million.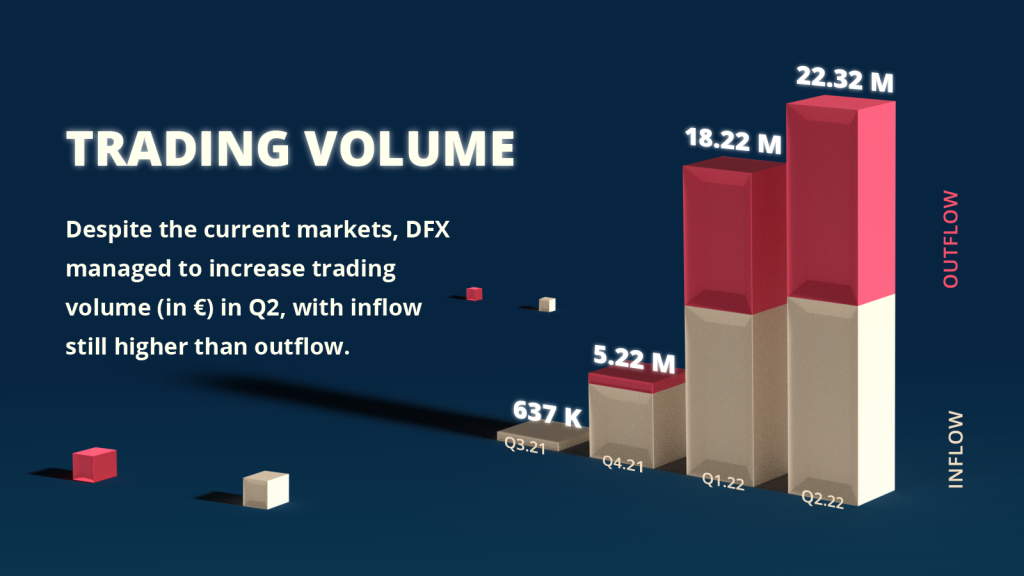 In this difficult market environment, it must also be pointed out once again that DFX continues to contribute to an overall positive inflow into DeFiChain ecosystems despite the huge selling pressure.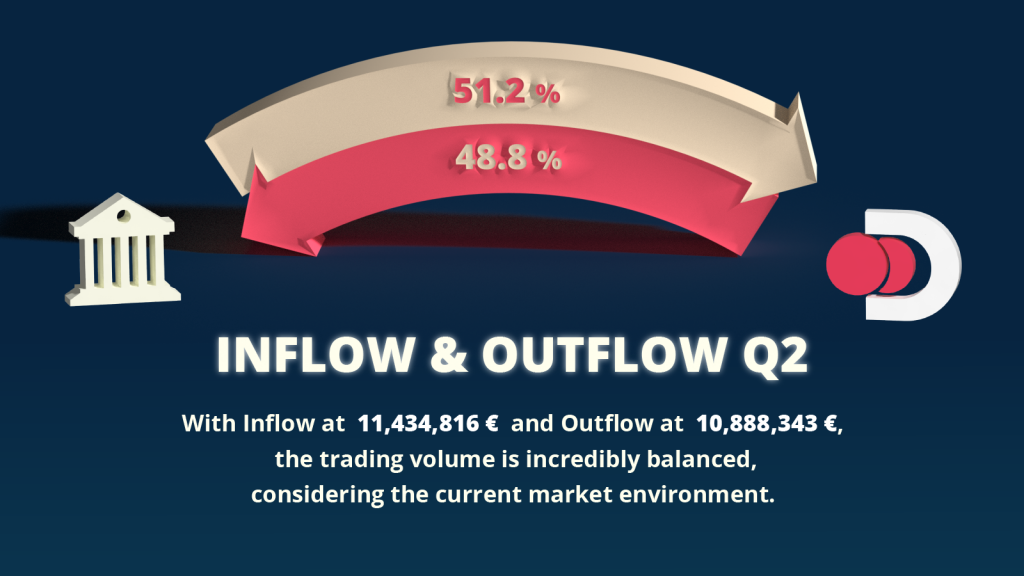 We have already been LIVE with our DFI staking service since February 2022 and by the end of June 2022 we had already created 220 Masternodes for our customers. Many customers take advantage of the free of charge first 28 days and stay due to the high rewards and reliable daily reward payouts. At DFX There are 3 different payout models at DFX: reinvestment of staking rewards, payout to wallet and even a daily payout to your bank account mirroring a Benchmark in the DeFiChain ecosystem. More than 470,000€ in paid out rewards to our customers is absolutely gigantic.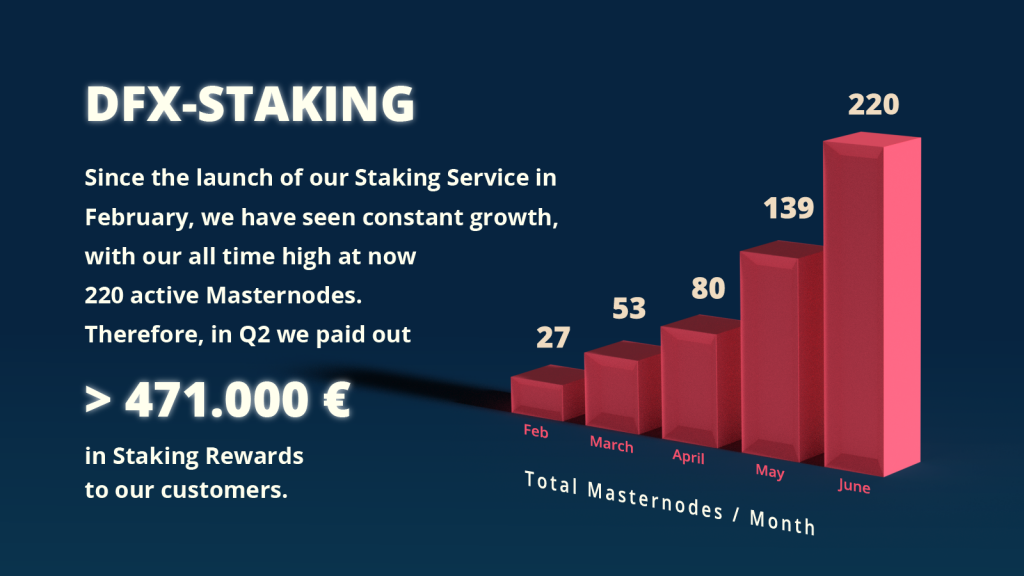 How satisfied customers are with our service can be seen in the consistently excellent reviews on platforms like Trustpilot and the App Store and Google Play Store. Are you also satisfied with the DFX service? Then we would be happy to receive your positive feedback on Trustpilot: https://www.trustpilot.com/review/dfx.swiss .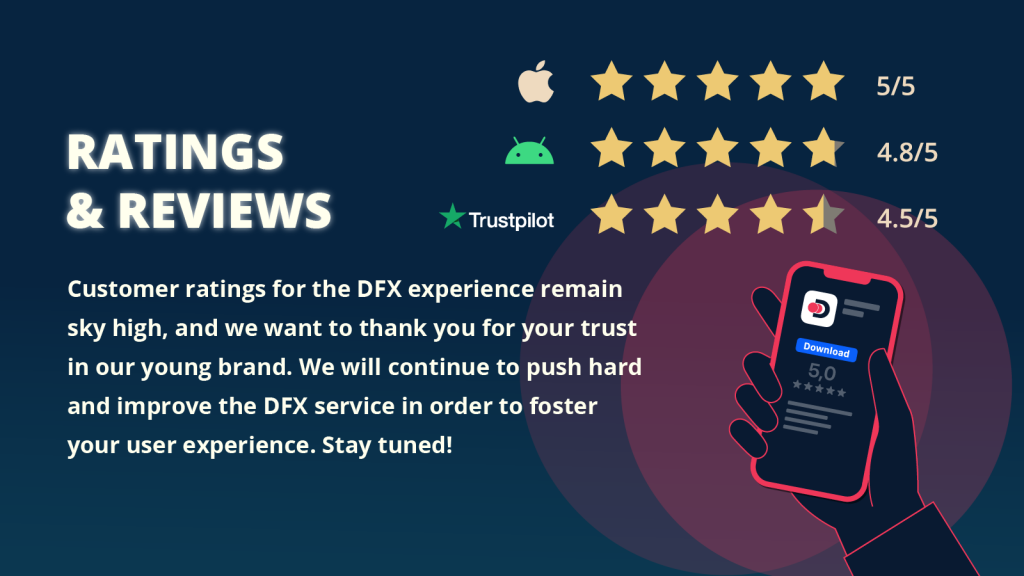 In addition, we entered into two extremely important and groundbreaking collaborations this quarter focused on spreading the word and educating people about Crypto and DeFi. With the Zigurat Global Institute of Technology and the Frankfurt School Blockchain Center, we are close to new talents, can pass on our know-how and thus actively contribute to the adaptation of blockchain technology and in particular DeFi in society.