DFX quarterly reporting of Q1/22
April 1st, 2022
Q1 2022 has been by far the most successful quarter for DFX and we experienced rapid growth in the last 3 month. That's why, we would like to say thank you for your continuous support and trust in DFX.
Despite the turbulent market sentiment, DFX was able to gain more trust within the DeFiChain Community and beyond. More and more people realize that our non-custodial solution is the future of managing your finances and investments in a truly permissionless way. The DFX wallet provides a free choice to users by either using the centralized service of DFX or remaining fully decentralized by just using the core functionalities of the wallet.
Q1 was kicked off with the atomic swap exploit of the DeFiChain causing a lot of uncertainty. After shutting down the entire atomic swap feature through a hard fork, the entire DeFIChain ecosystem recovered quite rapidly, proving the resilience of the protocol.
DFX has been up and running during this entire event building up massive trust within the community and showing that the DFX service, the DFX Offramp service in particular in this case, is exceptionally reliable, even in times when the DeFiChain protocol experiences sell pressure.
Furthermore DFX launched its Staking service in the beginning of February 2022 and yet another opportunity to earn passive cash flow on your cryptos. DFX has created about 100 Masternodes until the end of Q1 and registered a steady inflow of DFI for staking. 3 different payout schemes are available at DFX: Reinvest of your staking rewards, Payout into your wallet and even Payout into your bank account on a daily basis which is only possible with DFX.

Another challenge for the Crypto space and for Crypto businesses in general is the regulatory environment. Regulators around the world initiate stricter regulation on Crypto, in particular in Europe or rather the European Union. Regulators argue in order to crack down money laundering and financing of terrorism, they need to be able to trace transactions and verify wallet holders which is known as travel rule of transactions.
DFX is fully compliant with all regulations and already applies the travel rule, since it is required by Swiss law. DFX holds an official Swiss financial intermediary license and is thus fully committed to comply with all regulatory requirements.
DFX has published its quarterly reporting for Q1 2022 and the numbers are stunning despite the uncertain and bearish market environment:
9'000'000 EUR trading volume on March 22
10'463'784 EUR in inflows vs. 8'268'704 EUR outflows from Jan 1st - 31st Mar
204'332 EUR paid out in staking rewards
25'334 EUR paid out in referral rewards
In total we have processed more than 30m in transaction volume, since our launch 7 months ago in August 2021.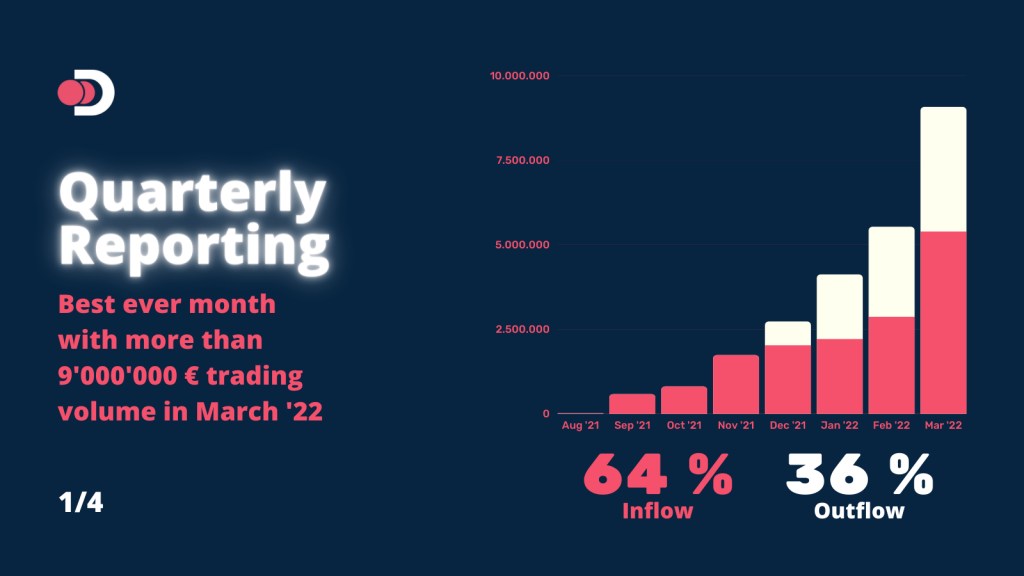 DFX is growing exponentially as shown in the chart above. A positive side effect is that we have more inflows (64%) than outflows (36%) in TOTAL transactions volumes, so that DFX is actively supporting the growth of the DeFiChain ecosystem.
Growth rates of 60% month over month on average in terms of transaction volumes stress the expanding business of DFX.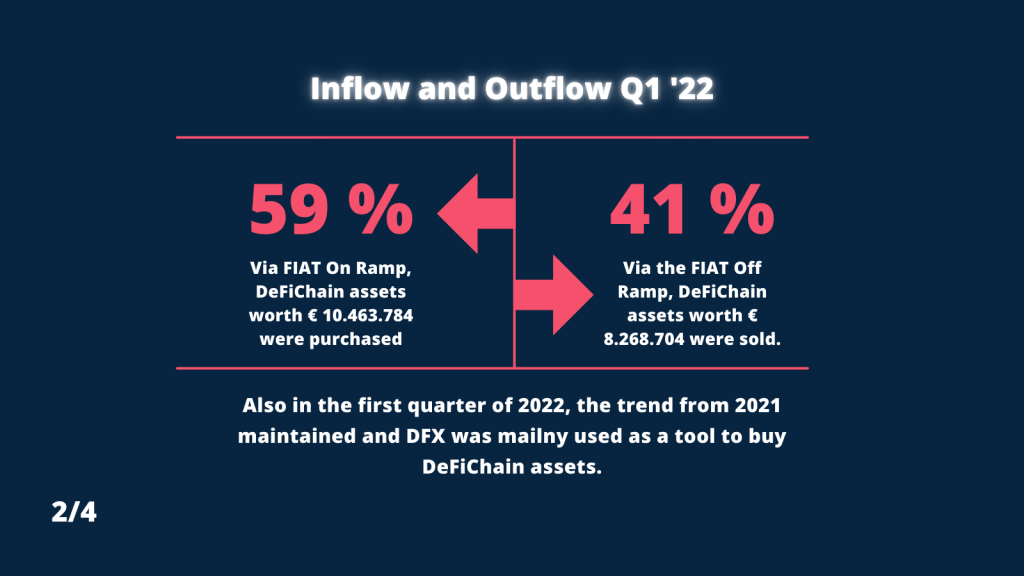 Although we see a more bearish market environment, we can still record more inflows than outflows into the DeFiChain ecosystem. DFX processed 10'463'784 EUR in purchases and 8'268'704 EUR in sales of DeFiChain assets resulting in a TOTAL transaction volume of 18'732'488 EUR in Q1 2022.
Our staking service launched in February 2022 has paid out 204'332 EUR in staking rewards to our customers with an APY of up to 45%. The first 28 days are free of charge, so that our customers enjoy the full rewards without paying any fee. Furthermore, DFX offers 3 different payout schemes are available at DFX: Reinvest of you staking rewards as well as your staking invest, Payout into your wallet of your staking rewards/invest and Payout into your bank account of your rewards/invest which is unique within in the DeFiChain ecosystem.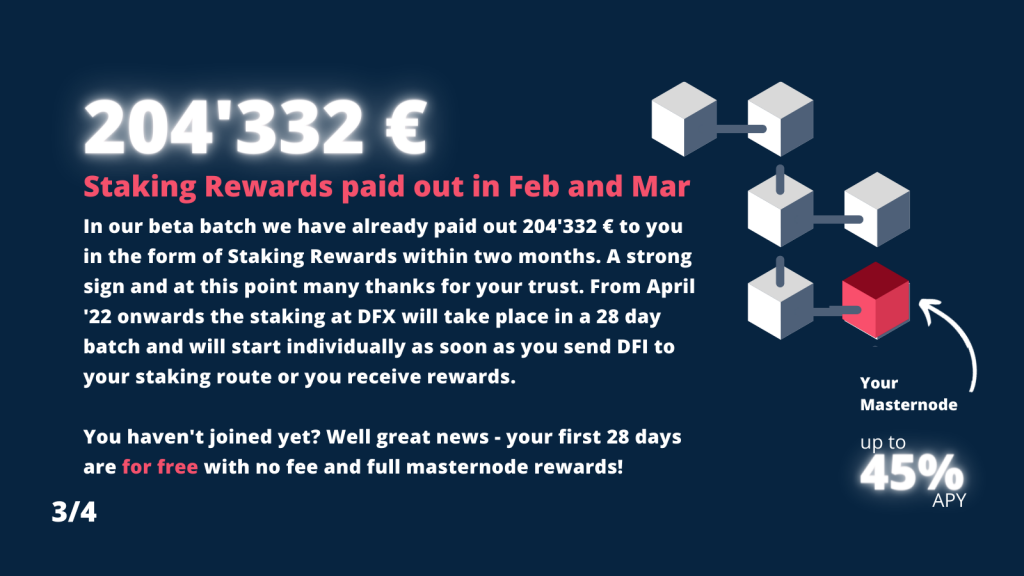 Our entire service is available to B2C as well as B2B clients. In particular, our staking service is the perfect way to diversify investments of businesses in order to generate passive cash flow on its investments.
A crucial tool to spread the word about DFX in a mouth-to-mouth manner, is our referral program. Referrers and new referred users are able to participate in the success of DFX by earning a percentage of the purchase volume or saving a small percentage in fees while buying DeFiChain assets via DFX. In total, we have paid out 25'334 EUR in referral rewards to our customers who distributed their referral link/code.
Referrers can earn between 0.1 - 0.5% of the purchase volumes of the referred users. On the other hand referred users can save between 0.5 - 0.9% in fees while using a referral code/link. DFX users love our referral program, since they can build up another passive income stream by just spreading the word about DFX.